World's First Multifunction Product with Erasable Toner Impresses 53-Person North American Judging Panel
Toshiba America Business Solutions, Inc. today announces its e-STUDIO™306LP/RD30 – the world's first multifunction product (MFP) with erasable toner – has secured a gold 2014 Best in Biz Award for the "Most Innovative Product of the Year."
Winners of Best in Biz Awards 2014 were determined based on scoring from an independent panel of 53 judges from highly recognized newspapers, business, consumer and technology publications, radio outlets, and analyst firms. The Best in Biz Awards are the only independent business awards program judged by members of the press and industry analysts.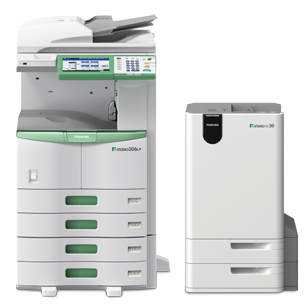 By incorporating a unique toner, Toshiba's print device is capable of erasing images and text allowing for the reuse of paper. As a result, the company's groundbreaking MFP enables organizations to assert their ecological leadership while also setting a good example for their employees. By reusing the same sheet as many as five times, users dramatically minimize paper usage while lessening carbon dioxide (CO2) emissions by up to 57 percent, as validated by the British Standards Institute, a global national standards organization.
Best in Biz Awards' fourth annual North American program was its most competitive to date. As in previous years, the fourth annual program in North America featured a large and distinguished judging panel comprised of members of the media who reviewed and scored the hundreds of award nominations. More than 550 award nominations were received this year in a variety of company, executive, team, and product focused categories. Nominations were submitted from public and private companies of all sizes, from virtually every major industry and region in the United States and Canada.
"Considering the distinguished group of judges connected to this year's Best in Biz Awards, our collective engineering, sales and marketing team is thrilled to win this prestigious honor," said Toshiba America Business Solutions Chief Marketing Executive, Bill Melo. "Delivering products to better enable our customers to operate more sustainably is one of the primary elements within our company's DNA. To receive recognition for doing so is a nice tribute to everyone involved in the development of our e-STUDIO306LP/RD30."
Best in Biz Awards 2014 honors were presented in 60 categories, including Company of the Year, Fastest-Growing Company of the Year, Most Innovative Company of the Year, Best Place to Work, Technology Department of the Year, Executive of the Year, Most Innovative Product of the Year, Best New Product of the Year, PR Campaign of the Year and Website of the Year. For a full list of gold, silver and bronze winners in Best in Biz Awards 2014, visit:http://www.bestinbizawards.com/2014-winners.
About Toshiba America Business Solutions, Inc.
Irvine, Calif.-based Toshiba America Business Solutions, Inc., (TABS) is an independent operating company of Toshiba Corporation, a Fortune Global 500 company and the world's eighth-largest electronics/electrical equipment organization. At Toshiba, we understand managing your business content goes well beyond making copies. It's about managing information whether it's in print, in digital format or displayed visually.
Our people offer leading, real-world products and solutions – whether speaking of our award-winning, e-STUDIO™ multifunction products or innovative Ellumina™ digital signage line – to handle all of your content management needs. We'll help you cut costs, secure your information and reduce your environmental footprint. And if there's one thing every business and our planet can use right now, it's managing to do more with less. For more information on Toshiba solutions and services available in the United States and Latin America, please visit www.business.toshiba.com and watch our corporate video on YouTube.
About Best in Biz Awards
Best in Biz Awards recognizes top companies, teams, executives and products for their business success as judged by established members of the press and industry analysts. Best in Biz Awards honors are conferred in two separate programs annually: North America, and International. Entries will begin to be accepted in the Best in Biz Awards 2015 International program in January 2015. Any organization worldwide may participate in the International program in any of the more than 60 company, department or team, executive and product categories. For more information about the entry process and categories in the International program, please visit: http://intl.bestinbizawards.com.